24 July, 2020
3 Minute Read
Becoming eco-minded in your warehouse has many benefits, including reducing your carbon footprint, reducing waste, cutting costs to the bottom line, and boosting employee engagement.
Signet's eco-friendly product specialists have come up with a few simple tips to help make your warehouse greener and friendlier for the planet through smarter packaging, recycling, reusing, and reducing waste.
1. Eco-friendly packaging options
Try switching from traditional packaging materials to those that are eco-friendly. Signet offers high-quality, green alternatives to mainstream shipping products, like 100% recyclable Jiffy Padded Bags, Ranpak paper systems as an alternative to bubble wrap, compostable Packaging Peanuts for more sustainable void filling, and Paper Tape as an alternative to plastic versions. Innovative pallet stability products like Velcro Logistrap and Elastic Pallet Bands are becoming more common in internal warehouse storage procedures, as alternatives to traditional plastic strapping or pallet wrap.
By swapping to green packaging alternatives, waste, and single-use plastic consumption within the warehouse, and sent to customers will be reduced. Signet is proud to be helping customers become leaner and greener in their operations, big or small.
Online retailer and Signet customer, Paperlust, made the switch from biodegradable bubble wrap to 'Geami' by Ranpak; a completely plastic-free cushioning solution for their tailored invitations and stationery. Since making the transition, Paperlust has gained a carbon-neutral shipping process and experienced zero transit damages, providing their customers with a positive unboxing experience.
2. Recycling in your warehouse
If your warehouse isn't already recycling, start now. Cardboard and paper make up most of the waste in many warehouses, along with single-use plastics.
Consider working with external companies that specialise in large-scale recycling in a range of industries, such as TerraCycle or Planet Ark, to help you give used materials a new life.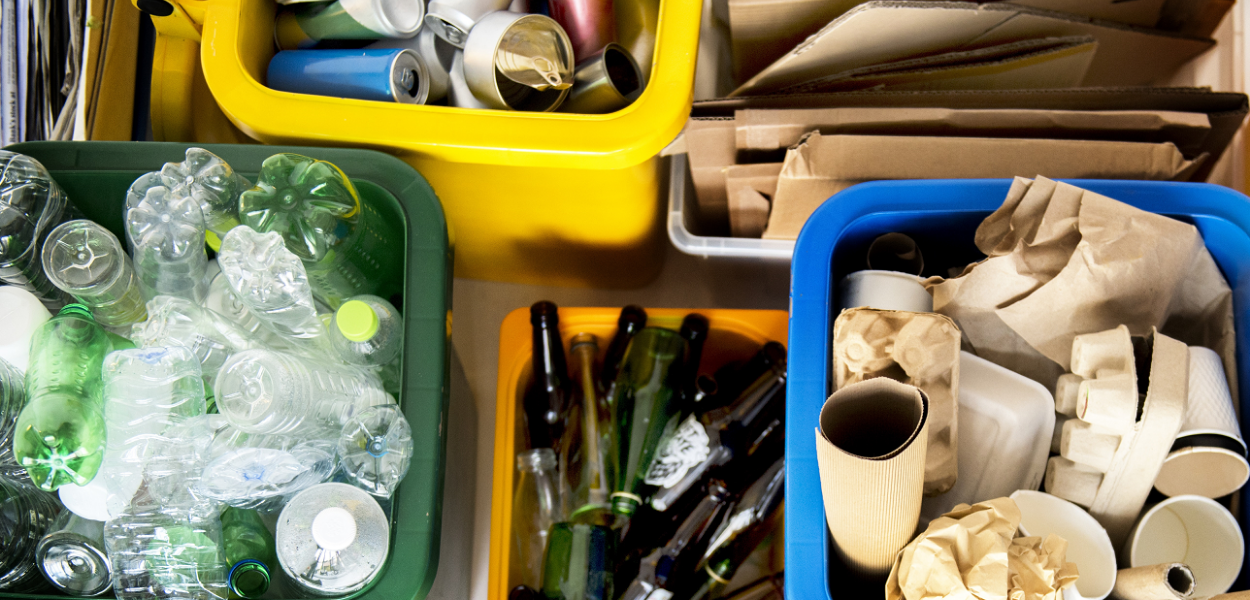 3. Reuse
There are various materials in a warehouse that can be used more than once, from cardboard boxes to pallet consolidation materials. For example, many businesses shred the cardboard boxes sent to them by suppliers for use as void fill, or, encourage their customers to send the packaging back to them to be reused. Signet product, Cover-All Tan, is a great way to reduce waste and packaging costs by covering old marks on reusable cartons.
Reusable pallet consolidation materials are becoming increasingly popular as a way to reduce unnecessary waste in the warehouse. Velcro Logistrap and Elastic Pallet Bands are just two Signet products that can be used multiple times each to store and transport pallets more sustainably.
4. Reduce
Businesses across Australia are following guidelines set by Australian Packaging Covenant Organisation to bring problematic and unnecessary single-use plastic packaging to an all-time low by 2025. For many companies, this means reducing plastic use in their operations and warehouses wherever possible.
One area that warehouses can become more eco-friendly and efficient in, is the packing room. Products that are packed into cartons that are too big for the product inside is a common culprit to wasteful and unnecessary amounts of protective void-filling (environmentally friendly or not), and often results in transit damages due to the extra internal carton space.
A simple fix to this issue to ensure your warehouse has a good range of carton sizes available for different product types. This will help to reduce overall packaging usage and can also lead to a reduction of freight costs due to smaller carton sizes and less weight in the package.
Online organic tea business, The Tea Hut, reduced their packaging and freight expenses by 50% and eliminated the need for protective void fill by sourcing the perfect sized shipping cartons for their orders from Signet. Signet has a wide range of carton sizes in stock, along with adjustable cartons for awkwardly shaped products. Same day despatch and distribution from five warehouse locations ensure our customers don't need to worry about storing cartons in their facilities, taking up valuable floor space.
Another packaging element that can be optimised or reduced is stretch film or pallet wrap. Signet packaging specialists' frequently observe customers using film that is not fit for purpose or not being used to its full potential. By analysing their stretch film usage, Signet's team can often downgauge their plastic thickness and optimise their wrapping procedures, leading to significant reductions in plastic and costs, and increased efficiency.
Signet helped customer Bam Wine Logistics increase the number of pallets they can wrap per roll of stretch film from 98 to 138 and achieve cost savings of 13% through a Tertiary Packaging Optimisation Project. Fresh produce grower and distributor, Center West Exports, reduced their plastic usage by 28 tonnes each year through a similar partnership with Signet.
Any reduction, big or small, in the consumption of energy, resources, or packaging will help your warehouse become more environmentally friendly and improve your business's bottom line.
5. Optimise warehouse process and flow
By optimising your warehouse layout, and revising legacy systems and processes, there may be opportunities to introduce eco-friendly packaging options that result in time and resource improvements.
A quick win for many organisations is to ensure packaging items are easily accessible to reduce time and motion around the warehouse.
Retail brand, Ever Eco, is the perfect example of how re-thinking a process can lead to multiple benefits that directly and indirectly create a more sustainable warehouse.
They streamlined their packing process by switching to the automated FillPak TT Paper and machine from a manual void filling system.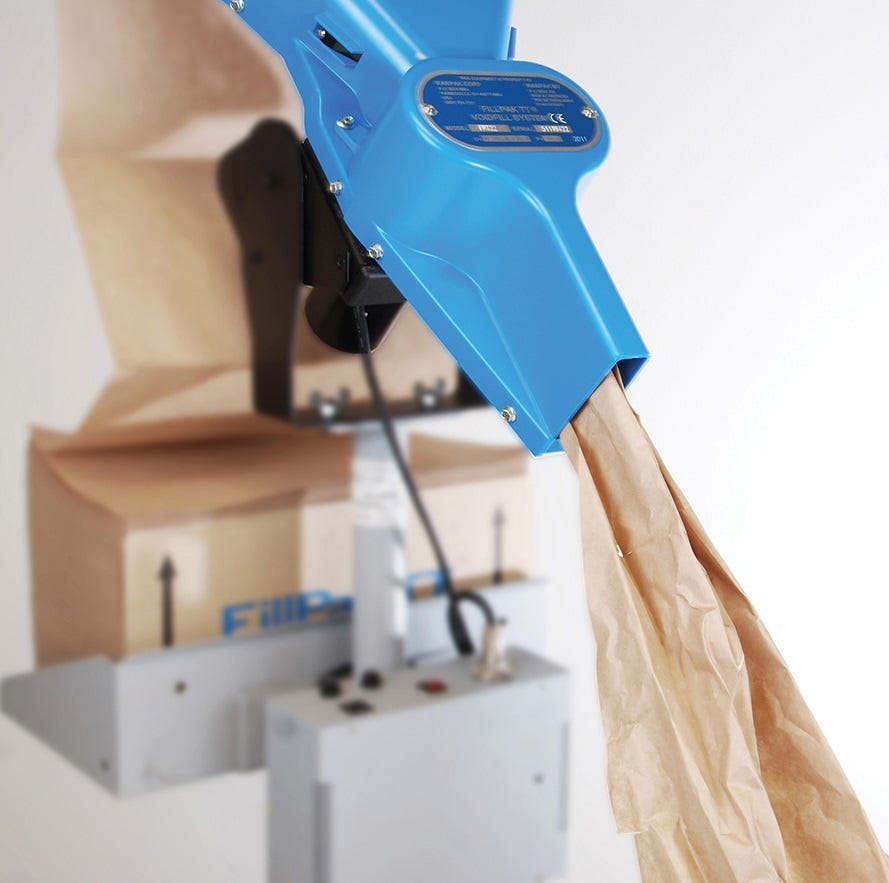 The FillPak machine gives the Ever Eco team a protective packaging option that automatically dispenses at their fingertips and at the correct ergonomic height, which helps their packers become more efficient in the packing process.
The added benefits of using the FillPak system ensure that quality and protection is not compromised and their products arrive in their customers' hands in perfect condition with minimal damages.
By streamlining your packaging area processes and limiting movement, you can reduce waste, whether it's in the form of talent, time, or resources. Review your sustainability and everyday practices regularly, highlighting issues, and creating ways to solve them to ensure your warehouse is as green as it can be.
To speak to a Signet team member about our Eco-Friendly Products, call us on 13 7446, email sales@signet.net.au, or Live Chat with us by visiting www.signet.net.au.