10 June, 2019
2 Minute Read
Ironman 4×4 partnered with Signet to reduce transit theft and streamline their distribution process, increasing their product security and improving pallet stability.
Over the past 60 years, Ironman 4×4 has transformed into a global supplier and manufacturer of camping and four-wheel-drive accessories, selling wholesale to 160 countries.
Fostered by a passionate company culture and people who live and breathe the booming four-wheel-drive and camping scene, what sets the Ironman team apart from the rest is their extensive knowledge and true love for what they do.
"The team here really know what they are talking about, they have so much knowledge to share from their own camping and 4-wheel driving adventures. At every other company I've worked for, Fridays and Mondays are for talking about footy, but these guys don't even know what a football is!" —Andrew Gillespie, Ironman 4×4 National Operations Manager.
Prior to partnering with Signet, Ironman 4×4 was experiencing large volumes of lost and stolen goods which were resulting in cost increases. Signet recommended Tertiary Packaging and Freight Consolidation Solutions, to increase their product security during transit and increase their supply chain efficiency.
To combat theft and increase their product security Signet recommended Ironman 4×4 switch from a clear film to Signet's black blown film around their pallets and is now used to allow anonymity in their supply channel Australia-wide.
"The thing with 4-wheel drive accessories is that they are very popular. They tend to go missing if visualised, so for a large portion of our freight we use the black stretch film around the pallets."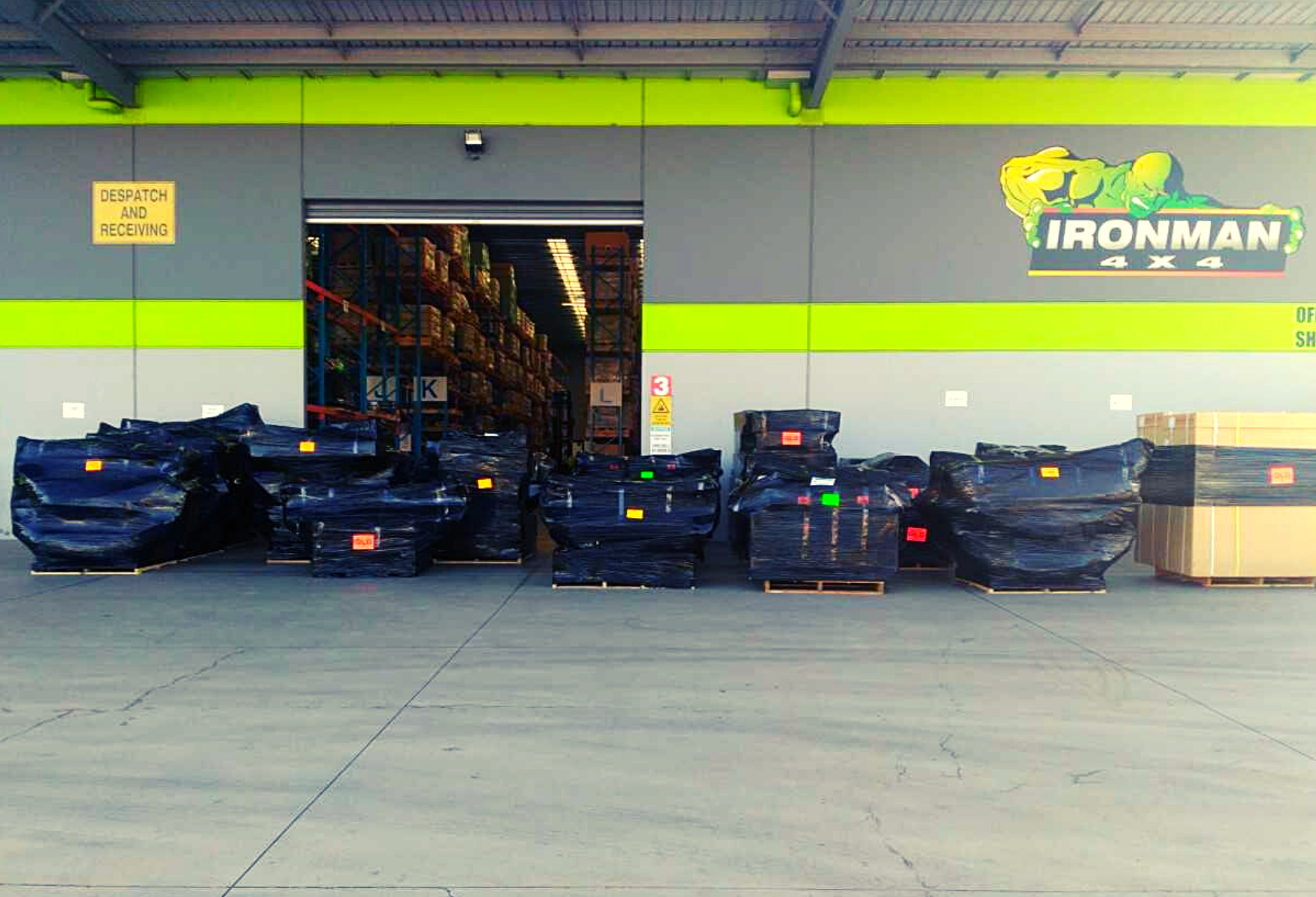 Since introducing black film to their distribution operation, Ironman has seen a decrease in lost or stolen items and an improvement in the stability of their pallets due to the strength of the film.
Ironman 4×4 were looking to streamline their distribution process and turned to signet to assist with a tailored Tertiary Packing solution.
"Whether it be stretch film, steel strapping, or custom cartons, Signet helps us remain innovative, agile, and secure in our supply chain activities."
Signet's relationship with Ironman 4×4 is a partnership that has grown stronger over the last decade.
"We have been great partners for over 10 years, and we are looking forward to the next 10."
If you'd like to speak to a Signet team member about a Tertiary Packaging Solution for your needs, call us 13 7446, email sales@signet.net.au, or Live Chat with us by visiting www.signet.net.au. Or to view Signet's range of security wraps, click here.
Signet is proud to support Ironman 4×4 and over 60,000 other Aussie ventures.