Signet On Air Andrew Stockdale
Andrew Stockdale

Signet proudly presents Wolfmother's Andrew Stockdale ft. world's second-best air guitarist The Jinja Assassin, on stage and on air...guitar.
Air Guitar Performances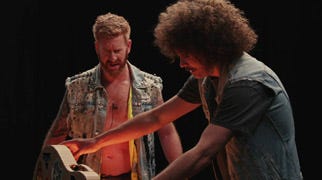 Unboxing
3:22
The Jinja Assassin presents Australian rock legend and Wolfmother frontman Andrew Stockdale, with his own custom double-necked air guitar.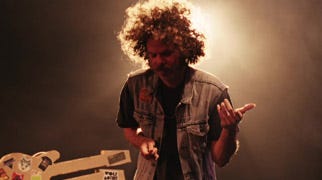 Performance
1:02
Andrew Stockdale performs a legendary Australian rock anthem - 'Joker and the Thief' live and double unplugged.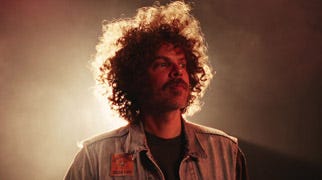 Slow Mo
0:33
'Joker and the Thief' live and double unplugged...and in slow motion for Signet.
You may also like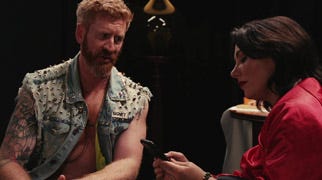 Ella Hooper
2:58
World #2 Air Guitarist and Killing Heidi super fan, The Jinja Assassin, fulfils his adolescence dream and presents Ella Hooper with her custom air guitar...no strings attached.
Pete Murray
0:51
A beautiful, double unplugged performance of Pete Murray's 'Feeler', exclusive to Signet.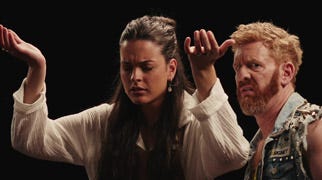 Steph Strings
2:46
The Jinja Assassin sits down with guitar prodigy and future music superstar, Steph Strings and presents her with a custom kids' guitar...ahem...air ukulele.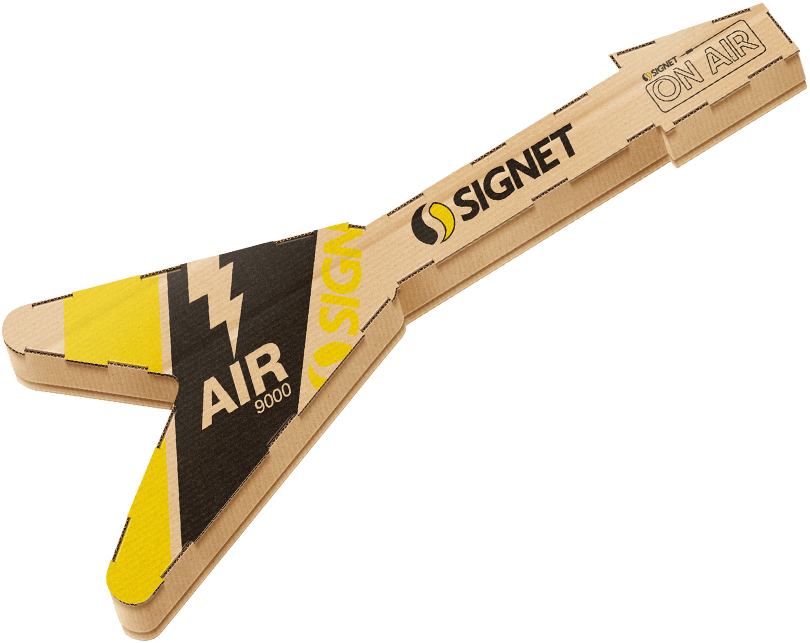 About Signet
Forgive us for thinking that packaging can actually be fun. When the opportunity arose to be the packaging provider for some of Australia's most talented musicians, we jumped at the chance! What's more exciting to package than a legendary (air) guitar? Our custom packaging ensures that not a single air guitar was damaged while on tour in Australia and around the world.
Nobody cares about packaging...like Signet! We're Australia's favourite packaging company, and we're passionate about making life easy for over 60,000 Aussie businesses who use our products every day. To view Signet's full packaging range visit signet.net.au.
Andrew Stockdale
The founding frontman of legendary rock band Wolfmother, Andrew Stockdale is undoubtedly one of the most recognisable figures in Australian music.
Sporting multiple ARIA Awards, APRA Awards and a Grammy, Stockdale is a certified guitar hero (and then some).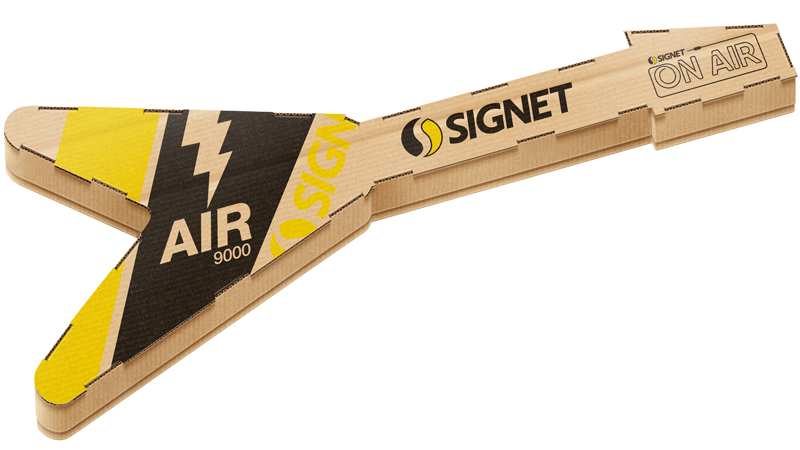 Air 9000
The Jinja Assassin's favourite custom air guitar. Many an air groupie has been serenaded with this feat of instrumental perf-air-ction.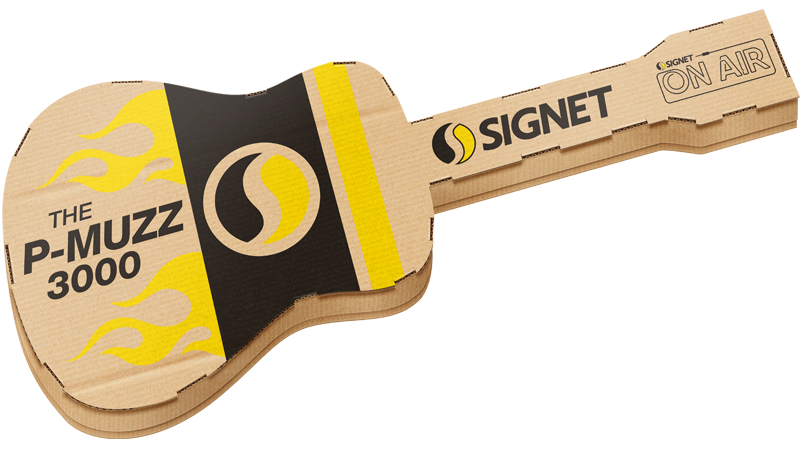 P-Muzz 3000
The perfect guitar for its laid-back owner. Pete's acoustic air guitar is always on hand to serenade his fans...no tuning required.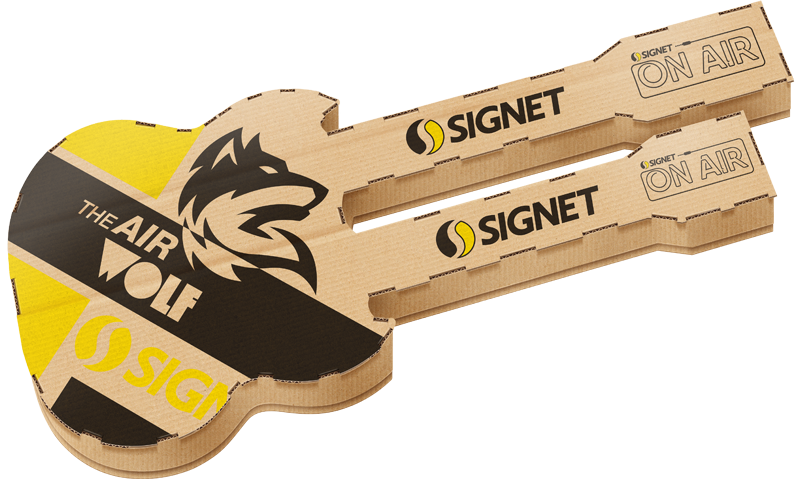 Air Wolf
A one-of-a-kind double necked guitar is reserved for rock legend Andrew Stockdale. Although, we do hear he will lend it to Jinja if they ever perform together (pfft like that's ever going to happen).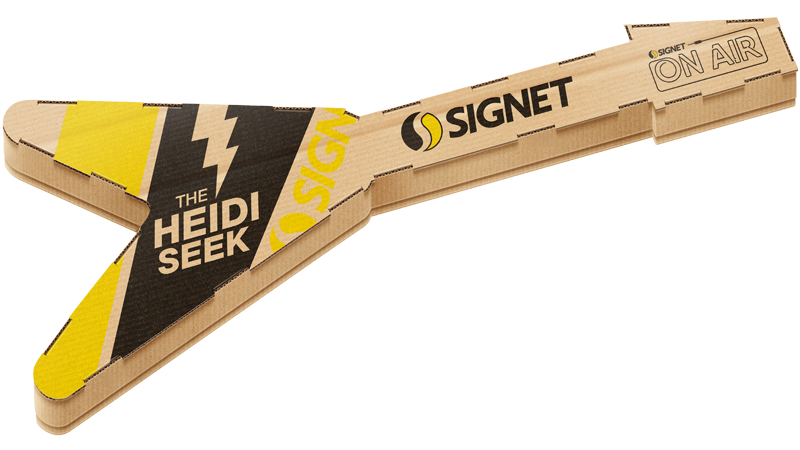 Heidi Seek
A custom air guitar made for rock royalty Ella Hooper. Made from maple wood body with a pearl block inlay on the fingerboard. It's *almost* too good to be real!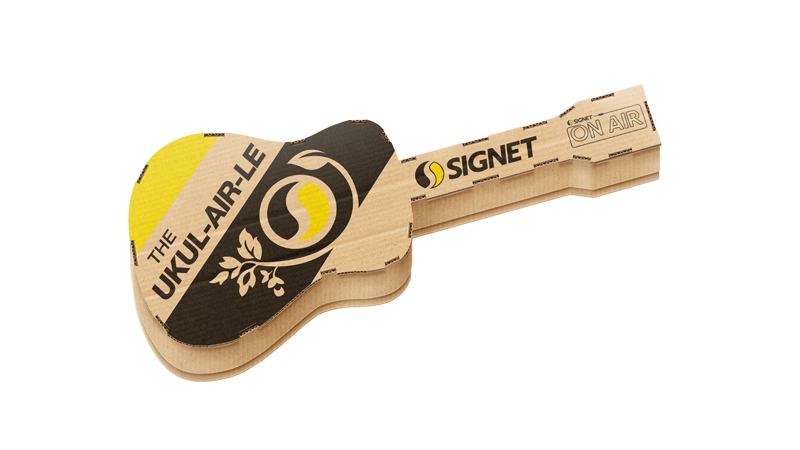 Ukul-Air-Le
We hear you can tune this air ukulele with your mind! Plus, this beauty is so small it packs away like it's not even there.